---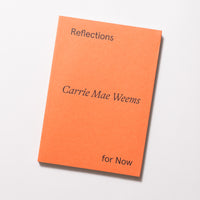 Weems' writings, lectures and conversations, published here for the first time, "beautify the mess of a messy world".
Text by Carrie Mae Weems, Dawoud Bey, DJ Spooky, Theaster Gates, Nona Hendryx, Terence Nance, Hans Ulrich Obrist.
Widely considered to be one of the most influential living American artists, New York-based photographer and multimedia artist Carrie Mae Weems (born 1953) has developed a practice celebrated for her exploration of cultural identity, power dynamics, intimacy and social justice through a body of work that challenges prevailing representations of race, gender and class. Defined by the use of photography, installation, film and performance, her remarkably diverse and radical oeuvre questions dominant ideologies and historical narratives disseminated within mass media. Published in the context of her solo exhibitions at Barbican Art Gallery London and Kunstmuseum Basel, this book brings together a selection of Weems' own writings, lectures and conversations for the first time, providing her personal insights into themes such as the consequences of power, artistic appropriation and history-making.